Chamber Calendar
2020 tentative Schedule
TBD -Grand Canyon become the Expert, Food Handlers and Situational Awareness
Jan 28th 10 am – 12 pm Board Meeting
Jan 30th Annual Luncheon 12 pm
Feb 11th 10 am - 4 pm Employment FAM Tour
Feb 11th Networking Mixer
Feb 13th 10 am -12 pm Board meeting
Mar 12th 10 am -12 pm Board Meeting
Apr 9th 10 am -12 pm Board Meeting
Apr 10th 10 - 4 pm Employment FAM Tour
Apr 10th Networking Mixer
May 14th 10 am -12 pm Board Meeting
Jun 9th 10 am -4 pm Employment FAM Tour
Jun 9th Networking Mixer
Jun 11th 10 am-12 pm Board Meeting
Jul 4th Parade & Celebration
Jul 16th 10 am -12pm Board Meeting
Aug 13th 10 am -12 pm Board Meeting
Sep 10th 10 am -12 pm Board Meeting
Sep 26th Bike Your Park Event
Oct 8th 10 am -12 pm Board Meeting
Mid -Oct -2020 Board Nominations
Oct 31st Trunk or Treat
Nov 7th Grand Canyon Chamber 1/2 Marathon
Nov 12th 10 am -12 pm Board Meeting
Nov 23rd Board Ballots mailed out
Dec 10th 10 am -12 pm Board Meeting
Message From The General Manager
Laura Chastain
As we wrap up 2019 we've had many things to be proud of this last year. The year long celebration of National Park Service's 100 years brought wonderful events and celebrations that lasted throughout the year. We also had many firsts this past year, the Instagram blogger campaign, the Bike your Park event and the Grand Canyon Trail Half Marathon.
I am excited for 2020. First I will start the year with a week long training at the University of Arizona - this will be my first year of a 4 year program offered through the US Chamber. Course topics include advocacy, media training, membership, finance, legal issues, human resources, and more. Upon completion of the 4 year program I will receive the IOM (Institute for Organization Management) which signifies 96 hours of nonprofit management training. I know my mind will be swimming with new and improved ideas upon my return. I am truly grateful for this opportunity and the scholarship that was provided by ACE (Arizona Chamber Executives).
Our Chamber is now full members with the US Chamber and I'm please to announce & extend additional resources to our small business members. Shortly you will receive information on our Federation Partnership program - with discounts on FedEx, toolkits with how-to information on hundreds of topics from healthcare to taxes to help your small business.
We have our tentative 2020 schedule listed and will continue to add more as we move into next year. We will continue to offer Employment Familiarization Tours, Grand Canyon Become the Expert information sessions, Food Handlers/Manager training and Situational Awareness training. As always if there are other classes, training's or topics you would be interested in seeing in our area please let me know.
Membership & 2020 Visitor Guides - invoices have all been mailed out. We have begun work on our 2020 Official Visitor Guide and your membership payments must be current to be included in the guide. Jamie and Joel from Arizona Exposure will be sending out all the information at the beginning of the year.
2020 Board Election Results- Thank you to all that sent in your ballots - newly elected/re-elected board members: DaNene Pace - West Wind Air Service, Stoney Ward - Buck Wild Hummer Tours, Clarinda Vail - Red Feather Properties, Courtney Dixon - Grand Canyon National Park Lodges. Returning board members include: Romy Murphy (President) - Pink Jeep, Julie Aldaz - Red Feather Lodge and Freda Ranenfuehrer - Best Western Squire Inn.
A Special Thank you to all of our 2019 Sponsors:
We couldn't do all of our events (July 4th, Half-Marathon, Employment FAM Tours, Become the Experts etc) without you! Look for our new 2020 sponsorship opportunities in February 2020!

Platnum Sponsor: Town of Tusayan for July 4th
Gold Sponsors: Holiday Inn Express and Suites, Red Feather Lodge, Texaco Express Mini-Mart
Silver Sponsors: The Grand Hotel, Papillon Grand Canyon Helicopter
Bronze Sponsors: Plaza Bonita Restaurant, Big E Steakhouse,
RP's Stage Stop, Grand Canyon Plaza Hotel, Best Western Grand Canyon Squire Inn
Small Business Sponsors: Arizona River Runners, Camper Village, Maverick, Buck Wild Hummer Tours
CUA fee increase Delayed AGAIN
The Commercial Use Authorization fees timetable schedule that had been scheduled for October 1st has now been delayed until at least January 1, 2021 for Grand Canyon. Here's a link for more information:
https://www.nps.gov/grca/learn/management/cua.htm
We've received some questions regarding the size of the vehicle and whether vehicles with 25 or less seats will be paying per seat or per passenger. While we are awaiting final confirmation - Grand Canyon Concessions believes it will remain the same (per passenger - not total seats). Should I receive different information I will inform you ASAP.
Fall Recap
Buck Wild Mixer - Thank you Stoney and Christine for wonderful food and a spooky time!
Trunk or Treat - Our annual Trunk or Treat event was incredible. Thank you Tusayan Fire Department for all of you assistance with set-up and fire-pits. This year's big trunk winners - Delaware North for Best Community Trunk and John & Clarinda Vail for Judges Choice. Every year it is harder and harder to pick our Community Trunk and Judges Choice trunk awards - Delaware North did a great job with hot cocoa, cookies and hot cider and creating such a welcoming feel. John and Clarinda Vail had all the kids disco dancing throughout the night! Thank you all for coming out and making it so fun. I always love the comments from the foreign visitors and I'm sure we we're the talk of their Facebook and WeChat posts!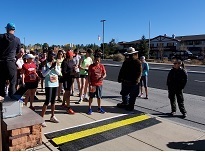 Grand Canyon Trail Half Marathon - Wow! Thank you for all of the support! We had 242 event participants the day of the event. Special shouts out to Tusayan Fire Department, all of the volunteers, all of the local businesses that donated prizes, food, and beer and Run Tucson. From Smokey Bear to our very own Grand Canyon Olympian and winner of this year's Half Marathon Janet Cherobon-Bawcom this was such and incredible community event!
Here are some quotes from our follow-up survey:
"This is a beautiful, well-marked course that's a good mix of challenging and fast. Thanks so much to all of the kind volunteers and event organizers for cheering us on, feeding us and making the weekend so fun!" Anonymous
"Great trail run with beautiful views of the forest and train tracks and bridge. Excellent community support." Anonymous
"It was truly perfect. My husband and I enjoyed the people, found it easy to pick up our race packets, park on race day, follow the trails. For me, there were just enough volunteers present along the course to show this was a well-organized event (while still getting a good feeling of running out in nature, without crowds). Thank you!" Anonymous
Some other key information from our survey respondents (18):
62.5% stayed 2 nights
43.7% stayed in Tusayan
25% stayed in Grand Canyon
only 26.6% said they came only for the race the other 74.4% enjoyed other area activities.
Check out some of the participants Youtube videos!
Greg Tracy - Grand Canyon Trail Half Marathon pre-race
Greg Tracy - Grand Canyon Trail Half Marathon
We already have next year's date set for November 7, 2020 and Randy and I have had the first planning meeting. More to come!
Situational Awareness Class - Thank you Coconino County Sheriff's Department for putting on this informative training. We plan to host 2 to 3 more next year and are already working on the dates. This training is excellent for anyone but especially those working in facilities and behind the scenes - it will help teach how to recognize unusual behaviors and events and how best to respond.
AOT - FAM's who came?
Oct 27 - Sarah Esnard ZuZulu Travel
Nov 15 / 16 - Three French Journalist
Dec 13 - Mexico FAM Tour (10 trade/media)
Winter Plan
As we are approaching the holiday season it looks like we will not be facing a government shutdown.
Our winter marketing plan includes:
3 AAA ads - those of you receiving our leads lists are already seeing direct results from these campaigns.
Facebook Video Post promotion Grand Canyon open year round - Grand Canyon Winter Adventure so far 3,526 thruplays, 18,654 reach, 66 post reactions, 3 comments, 26 shares and 82 website clicks
Facebook Ad - Come for the football stay for the views - just started - running in all DMO markets for football teams traveling to Arizona and in Arizona
Weekly email pushes to all leads
Weekly mailings to all leads without email addresses
If you have any winter activities / promotions / events you would like help promoting please let me know.
Hold the Date: Our Annual Chamber Luncheon is scheduled for Thursday January 30th at 12:00 pm location to be determined.
Marketing Re-cap
Digital Campaign for 2018-2019 July 1, 2018 - June 30, 2019
LA Times Digital ads
USA Today Geo-fence 1,401 clicks with 41 actions
Madden Media

Facebook Winter Sweepstakes 6,612 clicks with 8,500 engagements, 2,509 entries
Video Distribution 18,442 view 47.21% view rate
Remarketing Visit Arizona site 1.7 million impressions with a .16% click rate
Amplified Storytelling – 2 stories with 11,828 clicks

AOT – Canadian E-Blast
Go Arizona – 6,151 leads provided
Facebook Ads (July 1, 2018 to June 30, 2019) 54,917 impressions 30,055 reach with 474 clicks
Facebook posts (July 1, 2018 – June 30, 2019) 321 posts, 568,101 post impressions, 399,749 reach, 15,840 likes, 7,625 shares and 996 comments
Grand Canyon Journal – 214 clicks
Instagram – influencer campaign 300,449 impressions, 747 post engagements and 440 post reactions.
Print Campaign for 2018-2019 July 1, 2018 to June 30, 2019
Westways AAA SoCal – 500,000 Nov/Dec Issue
AAA Via Arizona – 535,000 Winter Issue
AAA Living (Mid-West) – 555,000 Nov/Dec issue 1635 leads
AOT State Map – 500,000
AOT Visitor Guide – 450,000
AZ Canadian Fall insert (print and on-line) 600,000 with 2,366 leads
Grand Canyon Journal - 100,000 Annual
AZ Drive Guides – 124,000 quarterly
Northern AZ Exposure Map 285,000
Grand Canyon Williams News Tour Guides
Grand Canyon Visitor Guide – 200,000
Chicago Life – 44,000
Roundup Magazine – 25,000
Oct 1st - Oct 31st - posts, reach, 1766 likes, 125 shares, 38 comments, 30 new page likes for a total of 5226 page likes.
Nov 1st - Nov 30th 18 posts, 37,265 reach,1548 likes, 55 comments, 104 shares, 36 new page likes for a total of 5246 page likes.
We ran 2 Ad campaigns Oct / Nov

Trunk or Treat 3,018 reach, 27 event responses.
Video boost Nov 23 - Dec 3, Grand Canyon Winter Adventure 2,076 thruplays, 13,047 reach, 58 post reactions, 23 shares and 66 clicks to website
Oct 1st - Oct 31st- 19 posts, 2,864 Impressions, 318 likes, 19 comments, 1 shares and 16 profile visits.
Nov 1 - Nov 30th - 9 posts, 1405 impressions, 173 likes, 4 comments, 2 shares and 7 profile visits.
Experience the Winter Majesty 46,898 views
Grand Canyon Family Adventure Dogs included 13,719 views
Come for the views...stay and experience the CULTURE 23 views
Grand Canyon's Winter Adventure 18 views
Half Marathon 9 views
Current Print Advertising in circulation:
Winter Drive Guide – circulation 200,000 - Cover Image
Grand Canyon/Williams Magazine
1/3 panel Northern Arizona Exposure Map – 275,000 circulation
Plus our 2019 Visitor's Guide I40 corridor certified racks Southern Arizona and Prescott Valley
Print Circulation this fall/winter:
AAA Living (mid-west) Nov/Dec
AAA Southern California Nov/Dec
AAA Via Arizona
Chamber Partner Opportunities
Arizona Office of Tourism
The Arizona Office of Tourism has updated their website - here are a few ways you can learn more...
Trends
Economic Impacts
Visitor Profiles
Regional Profiles
International Profiles
The Arizona Office of Tourism updated all of their requirements for Official State Visitor Centers - I am please to announce we have received the "Official" designation for the Grand Canyon.
We are starting to see a number of media requests. I have updated our media room page and added a Google form for media to fill out. I will receive the requester's information via email and in a pdf form which I will then share with those on my media list. If you're not on my media list please make sure your company has completed our contact information form.
I also have a dropbox folder for media - please send me anything you would like me to include.